Download an app, and twenty minutes later, nearly anything you need is at your door: your favorite meal, a ride to a show, a week's worth of organic groceries.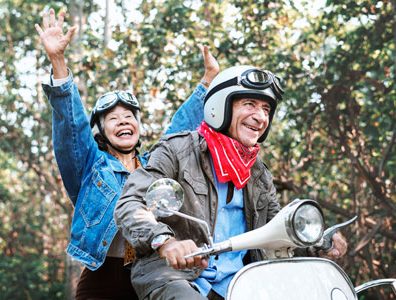 Download another app and talk face-to-face with a health care professional or a financial planner, all right from your living room, kitchen, or hotel.
This is life for leading edge baby boomers, and the pandemic has only accelerated their habit of staying put at home while technology meets their needs.
In previous generations, this age group (75+) would be actively seeking full service housing options right now. Today, they don't need senior housing and they don't want to think about long term care.
But, we certainly need their attention if we're going to stay relevant. While they may not need senior housing, there are plenty of things that they want. Their wants are real, their wants have intensified, and their wants will define the industry for the next decade.
They want a lifestyle that fits their self-image.
They want to simplify.
They want to matter.
In short, they want a feeling, a purpose, and an experience.
And while they don't want to think about care, they do care about care.
The magic – and success – of apps that bring the world to us is not that the creators of those apps predicted what would be successful. The magic is that they used common sense to anticipate a service that consumers might not even realize they want.
Then, just like that, the pandemic struck and those wants became needs.
So, as we roar into the 2020s, the question is: how does the senior housing industry evolve into something that leading edge baby boomers want, even if they don't know it yet? Their time at home recently also has begun to reveal where the convenience of technology falls short, so what is that one thing that technology can't deliver?
1. Hear Them Roar: Whatever You Do, Don't Call Them Seniors.
The industry – and the world – has certainly started off the 2020s with a roar. As our industry hurtles into the 2020s, it is worth a look back at the "roaring 20s."
Not those roaring 20s, but leading edge boomers' roaring 20s. Their 20s were characterized by self-expression, self-exploration, and disrupting the status quo. The vibe on college campuses when they were roaring through their 20s will be the vibe on active adult campuses in the next decade, albeit a more refined version, tempered by experience and wisdom.
Leading edge boomers push back against anything that resembles the lifestyles of their parents and generations before, especially when it comes to aging. As Colin Milner wrote in his forward to the 2018 ICAA Business Case for Wellness Programs, "Aging well is the great disruptor."
That said, leading edge boomers aren't living in the past. They are reinventing themselves, even now. So too, the industry must innovate.
Leading edge boomers are not content to ride off into the sunset. Many are still working, with no plans to fully retire. Add to that the advanced age and needs of today's independent living residents, and the current model becomes less attractive to them.
Rebellious though they were, there is good news: leading edge boomers have been at the center of the consumer universe for their entire lives. They intuitively understand the language of branding, and recognize that their purchases are a statement about who they are. As such, they seek brands that reflect their identities and support their interests and lifestyles. This is the guidepost for moving the industry forward into the roaring 20s.
2. Scratch a Niche: Multi-brand Strategies for Active Adult Communities
In the industry, too, we find ourselves on the threshold of a decade of disruption in demographics, and health systems and technology. The already massive marketplace is literally growing by the day. Next year 10,000 people will turn 75 in the US every single day.
Health technology is also changing rapidly. Technology that seemed like science fiction less than a generation ago – like telemedicine and wearables – is commonplace and accessible. These advances keep people mobile, living longer, and living better.
With less and less need to move, something must make leading edge boomers want to move. What will make them want to move is that one thing that they've learned technology can't deliver, and that will help them live better.
That one thing is at the heart of aging well, and it is why there is such strong growth and interest in niche active adult communities. Niche active adult communities built from the ground up are taking off, serving specialized interests and populations. They are lifestyle and experience driven, whether location based, or focused on a specific interest or population, such as the arts, LGBTQ, green living, or Zen.
Niche communities will thrive because they have that one thing: the feeling and experience of being a part of a community of like-minded people. If the pandemic has taught leading edge boomers (and the rest of us) anything, it is that technology is no substitute for the feeling of being there: the feeling of being a part of something bigger, feeling like you matter, and creating a life around what is most important to you.
From arts to Zen, niche communities fit the aspirations of a segment of the marketplace.
However, there is no one-size-fits-all definition of "what is most important." While we can offer generalizations about what leading edge boomers want – the feeling of community, purpose, etc. – a meaningful community or purpose will be different for each marketplace, region, group, and person.
Niche communities understand the wants and needs of a specific sector of the marketplace. They offer the ideal setting and structure for meaningful connections and experiences within the community and with the world at large. Once only the domain of religious non-profits, the definition of a niche community has expanded to include the many other ways that people identify themselves, and ultimately identify others like them for connection and support.
Not only have niche communities moved into the realm of the for-profit, multifamily developers are getting in the game, sometimes in partnership with senior housing developers, combining expertise in real estate with expertise in operations.
This is a bold step. For senior housing operators, this is a reset and more. The next wave of active adult communities will contain many elements with which we're familiar (and at which the industry excels), but make no mistake: the times have changed.
Consider these statistics:
(Senior Housing News, November 2019)
97% of senior housing professionals believe active adult's popularity will rise over the next three years.
87% of senior housing professionals are currently pursuing active adult, which is a key product for multifamily developers, too.
Senior housing operators believe their industry is better suited than multifamily to develop active adult communities.
Active adult has the potential to become the first official step in the continuum of care model.
For operators, this bold step of creating new brands and sub-brands requires a far more nuanced understanding of your marketplace than ever before. What niche does your marketplace support? How do you find them, and how do you offer them that one thing that they may not even know they want yet?
For existing communities, how will you position yourself in a market full of specialized communities, and how will you create your own unique identity to match up with the leading edge boomers in your marketplace?
3. Positioning and Repositioning: Simplifying is complex.
In a way, senior housing and its marketplace find themselves in the same situation. Leading edge boomers are simplifying their lives and living spaces in order to craft a lifestyle that allows them to focus on what is most important.
The industry is retooling, too. Both developers and existing communities are tasked with identifying the most important features of their new marketplace, and gathering the right players to craft an experience and message that aligns with their market's beliefs, values, and aspirations.
As any person who has downsized knows, simplifying can be complex. With so much to sort through, how do you identify what is most important?
Simplifying means keeping the big picture in mind as you work through the details of what to keep and what to reduce, with a laser sharp focus on what will get you where you want to go. For senior housing operators – whether rebranding or building from the ground up – identifying what is most important requires a truly nuanced understanding of the local/regional marketplace at a granular level. This understanding of the marketplace goes well beyond demographics, assets, and income, to identifying niche interests and ideals, and anticipating what the market might not even know that they want yet. Do your research, ask, listen, and research again.
The more refined the product and message, the more it will speak to the marketplace. Can they imagine themselves there? More importantly, would they aspire to be there?
4. It's Not What's the Matter With Them, It's What Matters to Them.
While leading edge boomers do care about care, it is not the driving force behind their decision making. For a never-grow-old market, it's about what they aspire to, not what they fear.
The question is not, "Who will take care of me when I'm sick?" The question is, "How will you help me stay well for the long term?"
However, care matters. It matters a lot. What has changed is the question answered by the care offerings in a continuum. Until now, the care aspect of senior housing answered the question, "Who will take care of me when I'm sick?"
For leading edge baby boomers, the question is about wellness: "How will you help me stay as well as possible for the long term?" This is a question that senior housing can answer and multi-family developers cannot.
While leading edge baby boomers are bent toward instant gratification, they also are keenly aware of the future. They are not in denial, they just look at it differently. They will respond to marketing that reflects their ideals and self-image, and to refined messages that speak to their identity, not as a future sick person, but as a present well person.
Likewise, with the future seeming especially uncertain, they will be looking toward options that both make them feel good now and make good financial sense for the long term. Niche communities that fill in the gaps (in the middle) market will check both boxes.
In this way, wellness is key. It's not a new concept or a trend. It is now a way of life. It attracts leading edge boomers by matching their sensibilities, and keeps care costs down for operators.
For a never-grow-old market, it's about what they aspire to, not what they fear.
The future of senior housing bridges the gap between our current definition of wellness and the expanded, leading edge baby boomer definition of wellness that includes that one thing. That feeling of being a part of a community is created by programming and offerings backed by a nuanced understanding of the marketplace, an understanding that anticipates what they want before they know they want it.
In balance with what the industry already does well, roar into the 2020s understanding your unique marketplace well enough that you can anticipate what your market wants.
This is the way of the future for the marketplace, and for the bottom line of the industry.
"A good hockey player plays where the puck is. A great hockey player skates to where the puck is going to be." – Wayne Gretzky